Backyard Flower Garden Ideas and Pictures for Inspiration
Are you looking for backyard flower garden ideas that are perfect for beginners and anyone who loves gardening? If yes, then I'm happy to tell you that you've come to the right place.
Not only will this post discuss some simple flower garden ideas, but it will also feature a couple of flower garden pictures for inspiration.
There seems to be a bit of misunderstanding when it comes to starting a garden because many people feel as though gardening has to only have vegetables or fruit. But true gardeners know that this isn't the case!
Flower Gardens are a thing and are quite beautiful, too. The next time that you're out and about, stop and appreciate the yards that are full of flowers.
Those yards may look "wild and free" but they took a ton of work to get to that point. This is a prime example of amazing flower garden ideas that you might want to have in your home, too.
(Here are some famous French flowers you may want to grow in your garden).
How Do You Make a Flower Garden for Beginners?
Starting your very own flower garden is really similar to starting your vegetable garden. You have to choose a spot in your yard that gets great sunlight and adequate drainage.
And if you're not planting directly into the ground, you need to find pots that you can use and move around so that they're getting the most growth opportunities possible.
How Do I Make My Flower Beds Look Good?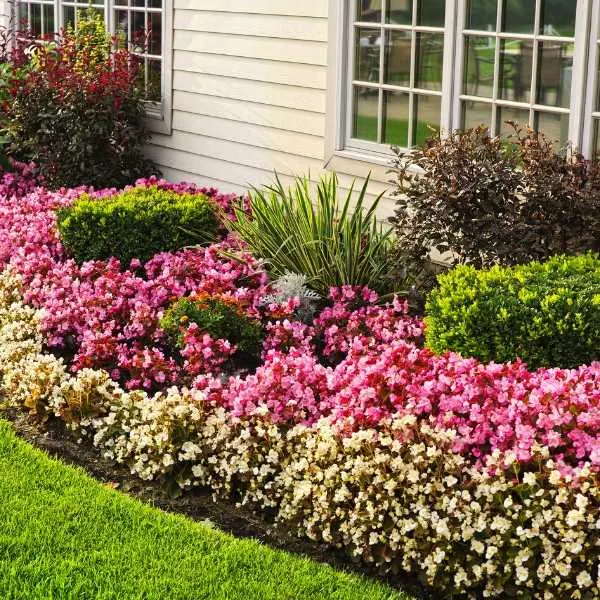 This is the million-dollar question and the one that everyone craves an answer to.
Flower beds can be quite beautiful, but they're also a lot of work. In fact, flower garden beds just MIGHT be more work than having a garden full of fruit or vegetables.
This is just my opinion…but since a flower garden is meant to be visually beautiful, you're going to want to be certain that you're weeding, pruning and taking care of it every single day.
What Flowers will Bloom All Summer?
Are you looking for flowers that you can plant that will be colorful and beautiful all summer long?
If so, you're in luck. There are actually several flowers that you can plant once and enjoy the view for several months at a time.
For plants that bloom all summer long, you're going to want to fill your flower garden with:
These are just a few beautiful flowers that you can plant and have them blooming all summer long.
Just be certain that you water them, weed them, and take care of them so that they grow.
Related:
What Kind of Flowers Do Well in Full Sun?
Planting flowers that do well in full sun is key if that is the type of yard that you have. There aren't a lot of flowers that can have unlimited sun and still grow but there are a few varieties of flowers that can.
For flowers that do well in direct sunlight, you're going to want to plant some of these options:
Related: Low Maintenance Sun Loving Perennials
All of these flowers are quite beautiful as well and would make a great addition to your flower garden area.
Pictures of Flower Gardens
Simple Backyard Flower Garden Ideas Anyone Can Do
Now that you know a little bit about the type of flowers that you can plant in your flower garden, let's dive into some flower garden ideas that you can start to implement.
How Do You Make a Backyard Flower Garden Layout?
Believe it or not, a proper flower garden layout takes a bit more consideration than planning a vegetable garden layout.
This is because your flower garden is going to be something that is meant to draw in the eye for its beauty and this also means that you need to plan on how to make it as eye-appealing as possible.
Once you have the location and are ready for planting, you also need to figure out if you're creating a color uniformity or not.
Some people plant their flower garden in a way that the colors all flow together perfectly while others actually really don't care.
You also need to consider growth times for your flowers as well. If you have a flower that takes 30 days to grow and a flower that takes 60 days to grow, you're going to need to keep that in mind when planting.
You can't plant flowers that will grow quickly in the same area with flowers that take longer to grow, because the ones that grow fast will end up blocking out a lot of the sunlight that the other blooming flowers need.
What's the Easiest Flower to Grow?
One of the best flower garden ideas out there is to fill your garden bed full of flowers that are simple and easy to grow.
This way it will produce and give you beautiful flowers to look at, all with minimal effort.
Now that you know this simple flower garden idea, let's dive into some of the easiest flowers that you can grow.
And those are just a few. Talk to your local greenhouse and ask them what type of flowers they'd recommend. Then, once they give their recommendations, talk to them about the best way that you can grow a flower bed with ease.
What are the Best Low Maintenance Flowers?
It's no secret that sometimes we start projects with the best of intentions but don't always end up following through with them as we should.
If you have that fear, why not fill your flower garden area with flowers that are simple and low maintenance.
These types of flowers will give you the ability to miss a few days here and there of work and not lose everything that you've planted. Plus, they'll bloom and be quite beautiful, too.
The easiest flowers that require low maintenance to grow are:
More Flower Garden Photos
While you'll have to do a little bit of work in your flower bed, it really will be minimal. Now that you have some great flower bed ideas to move forward with, it's time to get started with your plan!
What flowers are you going to plant in your backyard flower garden this year?