Low Maintenance Sun Perennials to Plant in Your Garden
Are you looking for low maintenance sun perennials that you can plant and watch grow on their own?
Sometimes, finding plants that are just low maintenance and easy to take care of really does sound like a dream.
But if you're looking for perennials that don't take a ton of work, you're actually in luck.
There are several perennial plants that you can plant in your garden and not have to worry about at all. This means that you don't have to do a ton of work on your part to get the garden of your dreams.
We all know that creating and sustaining a garden area is easier for some than it is for others, but this is why planting perennials in your garden space at home just might be a great solution for starting out.
Below you'll find some beautiful perennials that really don't require much effort on your part.
Planting them and making certain that they get sunshine and water is literally the biggest factors that you have to pay attention to!
Related Articles:
7 Low Maintenance Full Sun Perennials for Your Garden
As the name suggests, one of the biggest things that you have to keep in mind is that your perennials need to be in the sun.
If you can find a great place to plant them, this is the biggest worry that you're really going to have. Other than that, you really don't have to worry about too many other planting factors at all.
#1. Peony
Peony is probably one of the most popular sun loving low maintenance perennial flowers and for good reason. It's an easy plant to grow and it produces quite a big plant as well.
Peonies are also one of the popular flowers in Italy.
If you're wanting to add a flower to your garden that will grow and fill up the space, consider adding peony plants for sure.
#2. Catmint
The great thing about planting Catmint is that it stays in a tidy mound even without pruning. This means that it will not take over your garden space.
Catmint also has vibrant periwinkle purple flowers that will add beauty to your garden. Better still, it attracts butterflies and hummingbirds.
Little wonder a lot of people see it as one of the best sun loving low maintenance perennial flowers.
#3. Hardy Hibiscus
Not only will this perennial plant make your garden space look amazing but it also will bring some hummingbirds to your space as well.
Because sometimes, the garden area in your yard is there for therapeutic purposes as well as ornamental purposes, too, being able to sit on your porch and see lovely views is half the fun of gardening.
Hardy Hibiscus helps you achieve all that.
#4. Black Eyed Susan
Black Eyed Susans are quite beautiful, but make certain that you put them in an area where they can get a ton of sun! The more sun that they have, the more quickly they're going to grow.
#5. Tuscan Sun (Perennial Sunflower)
Tuscan Sun looks similar to Blacked Eyed Susan, but I like the facts that it doesn't have the same disease issues as the Black Eyed Susan. Plus, it has the tendency to rebloom if you trim it after the first bloom ends.
If you are looking to add some splash of vibrant colors to your garden, then Tuscan Sun's golden color may be what you need.
It is heat and drought tolerant and needs only 1 inch of water per week.
#6. Blanket Flower
The colors of this perennial plant are vibrant and are certain to attract attention. Filling your garden space with these easy to grow perennials is a simple way to have a successful garden space from the start.
#7. Coneflower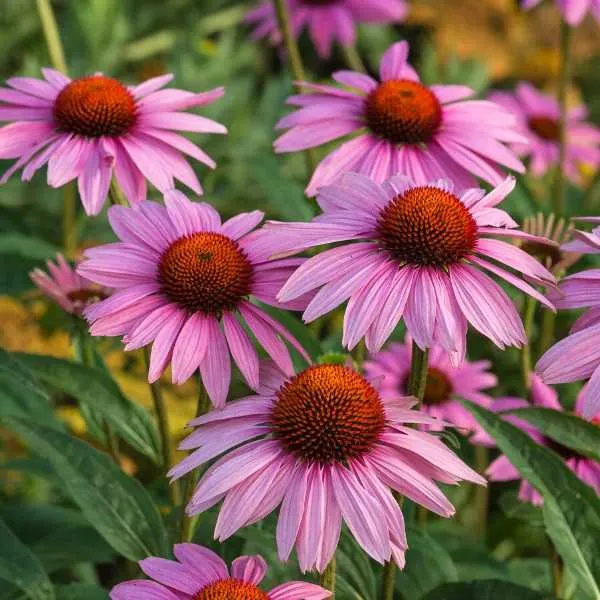 Coneflower is super simple to grow and is a pretty sight for the eyes, too. Fill your whole garden area with this perennial flower and you'll love looking at it every day.
What is the Easiest Perennial Flower to Grow?
While all the perennials listed above are considered simple to grow, the easiest perennial plant that you can grow in your garden is the Achillea plant. All you need is great sun and a way for the water to drain.
What is the Best Time to Plant Perennials?
There are actually two times during the year that you should consider planting your perennial plants. March-may is the first planting time and later September into about the middle of October work as well.
How Can I Make Perennials Grow Faster?
If you're wanting to expedite the process of growing your perennial plants, you might want to try mulching your garden area to get it ready for planting.
It's a bit like composting in the fact that you're enriching the area to make it a prime growing space for the perennial plants.
Why Didn't My Perennials Come Back?
Even though perennials are made to come back each and every year, there are some reasons that might prevent them from growing back.
Extreme temperature changes, bad soil, and not enough sunshine are just a few of the reasons that your perennial plants aren't growing back.
Can I Put Perennials in Pots?
You can but you need to make certain that you plant them in a large container because they tend to grow bigger and take up much more space.
If you're ready to add some flowering perennials to your garden space that are easy and simple to grow, why not try out some of the great flowers listed above? They're not only super easy to plant but they'll have your garden space looking amazing in no time at all.
Which is these low maintenance sun perennials are you looking forward to planting in your garden space?