Purple Flowering Perennials that Will Add a Touch of Elegance to Your Garden
Adding purple perennial flowers to your garden will not only add to your garden's color palate, but can also add a touch of drama and elegance as well as giving you some beautiful cut flowers for your dining room table.
As most flower gardeners know, having flowers of a variety of colors growing in your flower garden adds interest and enjoyment to your gardening efforts.
Purple flowering perennials require less work than annuals because they come back on their own each year, which saves you both time and effort.
Here are some great purple perennial flowers for your garden or yard.
Related Articles:
9 Beautiful Purple Perennial Flowers
#1. Purple African Daisies
African daisies are evergreen perennials that are native to the Continents of Africa and Asia. African daisies look very much like the white and yellow common daisy with petals radiating around the center.
However, these daisies come in several bright colors including purple. The leaves of these flowering plants can either be lance shaped or oval and smooth. The petals of the flowers can be flat or tubular with some of the centers having a painted metallic look.
African daisies stand 1 to 3 feet in height and bloom in the middle of summer and can bloom for several weeks.
These flowers grow best in zones 10 and 11 and prefer full sun and well-drained soil although they can withstand drought conditions once the flowers are established. (Here are more daisy varieties.)
#2. Purple Butterfly Bush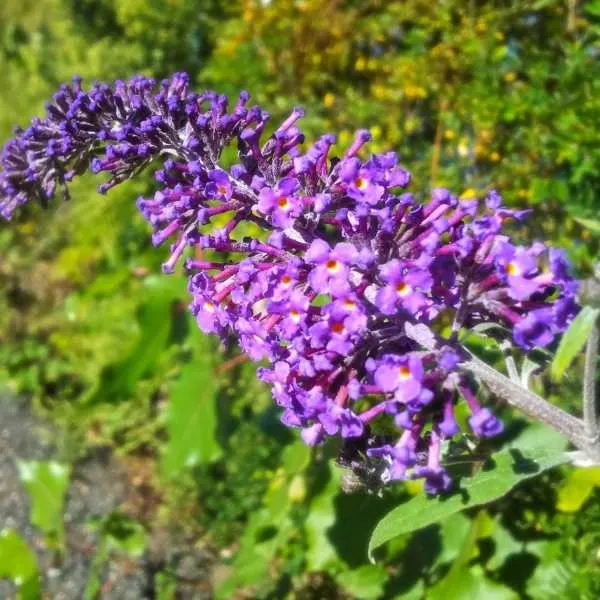 The Butterfly bush is native to Asia and is named due to the fact that it is a huge attraction for pollinators including butterflies, bees and even hummingbirds.
This bush has coarse sage green leaves and flower spikes made up of several tiny flowers clustered together. The butterfly bush can grow to a height of 12 feet.
These flowers come in purple as well as other stunning colors such as pink, yellow, white and blue.
This plant thrives in zones 5 through 9 and prefers full sun and well-drained soil. And it can thrive in harsh conditions.
#3. Purple Dahlias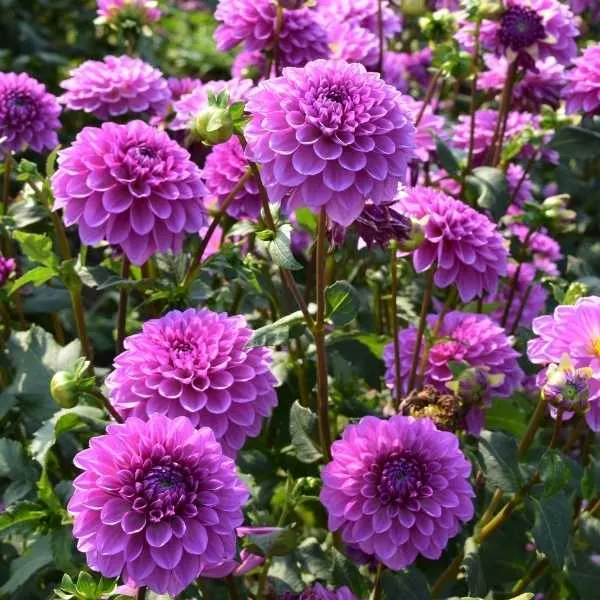 The Dahlia is a stunning flower that is native to Central America and Mexico. Dahlias (large round flowers with multiple petals) grow on tall erect stems top. These beautiful flowers come in purple as well as a number of others bright colors.
The Dahlia grows best as a perennial in zones 8 through 11 and prefers full sun and moist, but well drained soil. And they can grow to be between 2 and 7 feet tall. You do need to keep in mind that these flowers are toxic to dogs and cats.
#4. Dalmatian Bellflower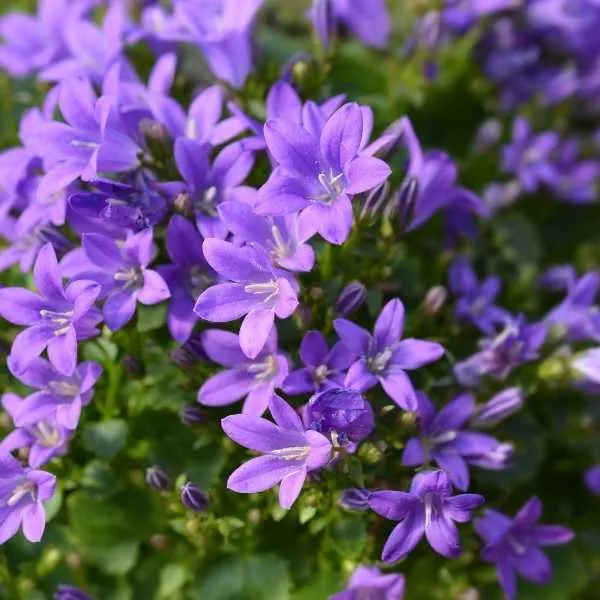 The Dalmatian Bellflower is native to Europe and named for the Dalmatian Mountains in Croatia. This flower is a perennial in zones 3-9 and is mostly used for edging.
The Dalmatian Bellflower has dark green leaves and bright purple 6 petal flowers that are either bell or star shaped. These flowers grow to be 6 inches tall and prefer full sun or partial shade and moist well-drained soil.
#5. Purple Coneflower
Coneflowers are members of the daisy family and are native to North America. While there are many varieties of this flower, the most popular is the purple coneflower. The coneflower has prickly lower stems with raised cone-like centers from which it gets its name.
These flowers grow best in zones 3 through 9 and prefer 6 to 8 hours of sunlight each day and various types of soil as long as it is well-drained.
Coneflowers make great cut flowers and also attract pollinators including butterflies, bees and birds.
#6. Purple German Bearded Iris
German Bearded Irises are native to Southern Europe and the Mediterranean. This lovely plant has sword shaped leaves and 6 petals, 3 of which stand upright and 3 (called falls), which droop down.
There is a unique pattern on each petal, adding further interest to this flower. It comes in several vibrant colors including royal purple.
The bearded Iris is the easiest Iris to grow. It does best in hardiness zones 3 through 10 and prefers full sunshine and average well-draining soil.
While the German bearded Iris do attract butterflies and hummingbirds, they are toxic to dogs and cats.
#7. Lilacs
When most people think of purple flowers, lilacs are one of the first purple flowers that come to mind.
These beautiful flowers may grow on a bush, tree or vine and are known for their toughness and longevity being able to grow for 100 years or more. This plant is also known for its wonderful fragrance.
While lilacs come in several colors, they are best known for their lilac and dark purple colors. Lilac bushes can grow between 8 and 10 feet tall. These flowers may bloom anywhere from mid to late spring and blossoms last for about 6 weeks.
Lilacs grow best in zones 3 through 7 and prefer full sunlight and moist well-drained soil. They are attractive to butterflies and birds.
#8. Lavender
Another plant that instantly reminds people of the color purple is lavender. Native to the Mediterranean, a lavender plant can grow from 1 to 3 feet tall. Lavender has pale gray-green foliage and flower spikes that are definitely purple. This plant is known for its strong fragrance.
Lavender grows best in zones 4 through 9 and prefers to be grown in full sun and well-drained soil. However, it is toxic to dogs and cats.
#9. Princess Flower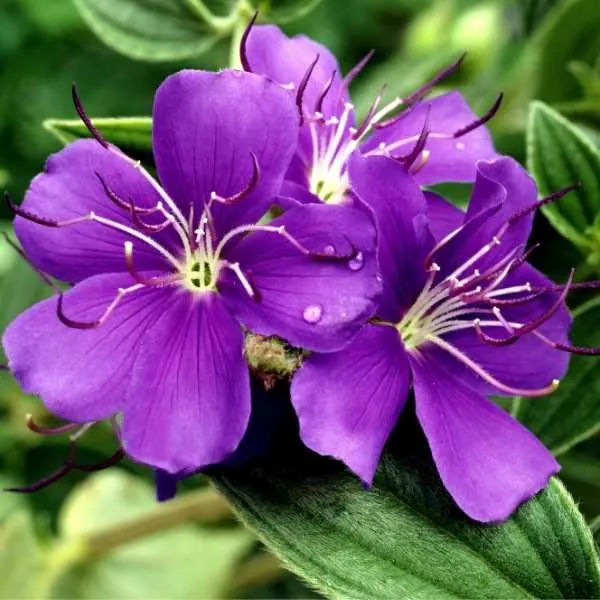 The Princess flower is native to Brazil and in the United States is normally grown as a shrub or small tree. The Princess flower has soft hairy leaves with red edges that can grow between 2 and 6 inches long and large purple flowers with 5 petals that can grow to be 3 to 5 inches wide.
This flower grows best in zones 9 through 11 and prefers partial shade and even full sun and well-drained soil. This is a plant that can bloom year round in hot climates.
Final Thoughts on Purple Perennial Flowers
The purple perennial flowers mentioned above are just a few of the beautiful purple flowers you can choose from. However, the flowers on this list will give you some idea of just how beautiful and elegant purple flowers can be.