Beautiful Bell Shaped Flowers You Can Plant in Your Garden or Yard
Bell shaped flowers are a favorite of nature lovers and gardeners alike. There are several reasons why these flowers are so popular.
First, flowers that look like bells automatically capture the attention of most people. Then, of course is the fact that these flowers come in various sizes and colors, making them beautiful additions to your garden plot.
Additionally, the fact that these flowers that are shaped like bells grow in the wild, can be planted in a garden or in containers make them great additions to various areas of your property.
Here is a look at some very pretty and interesting bell shaped flowers.
Related Articles:
10 Attractive Flowers that Look Like Bells
#1. Amaryllis
The Amaryllis is a hybrid flower native to Central and South America. In some areas, these flowers are grown as a winter blooming flower, while in warmer climates these flowers bloom in March, April, or May.
These bell shaped flowers grow 1 to 2 feet tall and have a spread of about 9 to 12 inches.
The flowers of this plant may be red, pink, or white or a combo of colors. They like full sun or partial sun and rich well-drained soil and grow best in zones 8 through 10. These plants are also slightly toxic.
#2. Hollyhocks
There are more than 60 different types of Hollyhocks. Some types of this flowering plant can grow up to 8 feet tall with a spread of 1 to 2 feet.
This plant can be either perennial or biennial and is known for its long lasting flowers that may be white, yellow, lavender, pink or red. The large bell shaped flowers are attractive to butterflies and bees.
This plant does best when grown in an area of the garden that either gets full or partial sunlight or has moist well-drained soil.
Although these flowers are native to Europe and Asia, they do grow well in most parts of the United States including zones 2 through 10.
#3. Daffodils
The daffodil is known by most of us as that sunny spring yellow perennial flower (although this flower also comes in white, orange and pink). This bright colored flower is shaped like a bell in the center with 6-loped corollas circling the outside of the bell.
Native to Europe and North Africa, this flower does best when planted mid to late autumn for blooming the next spring.
Full-grown daffodils stand 6 to 30 inches tall and have a spread of 6 to 12 inches. This flower prefers full to partial sunlight and rich, moist, but well-drained soil and is toxic to humans and animals. The Daffodil grows best in zones 4 through 8.
#4. Canterbury Bells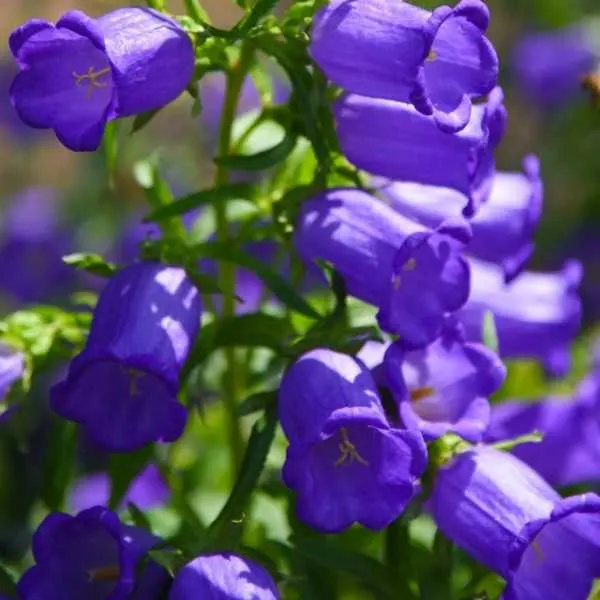 Canterbury bells originate in Southern Europe and are considered to be a biennial flower that grows as a perennial flower in some areas.
These flowers grow 20 to 26 inches tall and have a spread of about 12 to 18 inches. They grow best in full sun or partial shade (they need shade part of the day in hotter climates.) and rich well-drained moist soil.
They thrive best in zones 5 through 8. Canterbury bells blooms in early summer and the flowers are pink, white, blues or purple.
#5. Pasque Flower
The Pasque flower is actually the state flower of South Dakota. This flower grows 8 to 12 inches tall and forms a clump. Flowers are loosely bell shaped and are generally bluish-purple or dark purple, but can also be white or reddish-purple blooming in early spring.
This flower is suited to colder climates and prefers full or partial sunshine. The plant is drought tolerant and does well in zones 4 through 7.
#6. Four O'Clock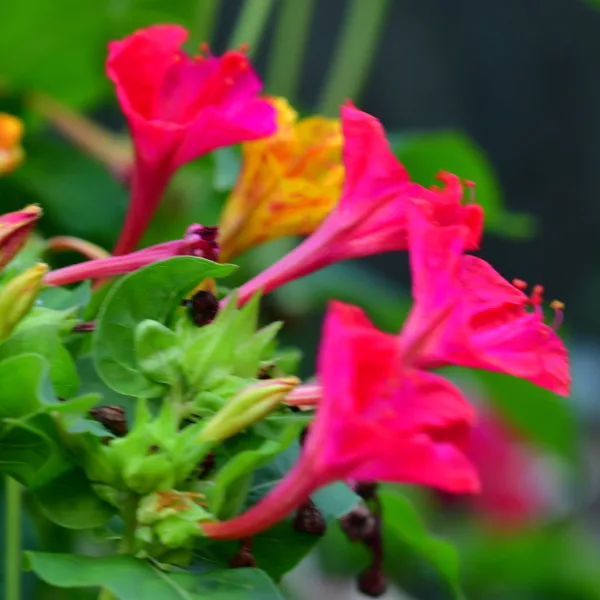 A bushy perennial the Four O'clock flower is native to South America. This flowering bush has slightly pointed oval leaves that grow on branching stems. The flower gets its name because the it opens late afternoon (around 4 O'clock) and remains open until the next morning.
The plant stands 2 to 3 feet tall and has 2-inch long flowers shaped like bells or trumpets. The 5 petal flowers come in pink, red, yellow or white.
The 4 O'clock grows best in full or partial sun and moist well-drained soil. It thrives in zones 9 through 11. This flower can also be toxic to people and pets if ingested.
Flowers that Look Like Upside Down Bells
#7. Common Foxglove
The common foxglove plant is a fast growing plant with bell shaped blooms. This plant takes two years before it blooms and then dies.
The bell shaped flowers of this plant can be white, pink or purple and often has spots inside the flower. The flowers of this plant blossoms in late spring or early summer.
This plant grows 2 to 5 feet tall and has a spread of 1 to 2 feet.
The foxglove plant does best in full or partial sunlight and well-draining loamy soil. With the proper care this plant survives well in zones 4 through 10. This beautiful plant originates in Europe and Northwest Africa.
It should also be noted that the Foxglove plant is highly poisonous if ingested and can affect the heart.
#8. Angel's Trumpet
Angel's trumpets are fragrant annual flowering shrubs that are native to tropical South America. The bell like flowers come in yellow, orange, pink, white, green and red. They bloom in fall, spring and summer
These plants grow 3 to 8 feet tall and 5 to 8 feet wide. They thrive in full or partial sunlight and moist, well drained soil and can be grown in zones 7 through 11.
The angel's trumpets are low maintenance shrubs that can be grown in containers. Because of their fragrant nature, they are deer resistant and attract birds. However, these plants are toxic if ingested.
#9. English Bluebells
It is difficult to think about bell shaped flowers without a picture of bluebells coming to mind. The English bluebell is a perennial wildflower native to the British Isles but has spread throughout Europe and North America.
Bluebells bloom mid to late spring and have blue-purple flowers with turned up lips. Each flower is made up of 6 petals.
This flowering plant stands 12 to 18 inches tall and has a spread of 3 to 8 inches. They grow best in partial sun and loamy, sandy or clay soil and thrive in zones 4 through 9.
These flowers are toxic to pets and humans if ingested. (Here are the different types of bluebells).
#10. Lily of the Valley (White Bell Shaped Flower)
If you are looking for little white flowers that look like bells, then you can't go wrong with this one. The Lily of the Valley is native to Europe and not actually a lily, but a member of the asparagus family. This plant grows 6 to 12 inches tall with a 9 to 12 inch spread.
It has leaves that can run from 5 to 10 inches long and tiny white bell shaped fragrant flowers that bloom in the spring.
This herbaceous perennial does best when grow in partial sun or shade in well-drained soil and thrives in zones 3 through 8.
Like many flowers that look like a bell, Lily of the Valley is toxic to pets and humans if ingested.
Final Thoughts on Flowers that Look Like Bells
There are many bell shaped flowers you can grow in your yard or garden, but the bell like flowers featured here are some of the most interesting.