Easiest Vegetables to Grow in Florida
If you are looking for the best vegetables to grow in Florida, then you can start with the ones featured here.
Florida is the warmest state in the United States and therefore gardeners can grow different types of plants almost year round.
This state has a long growing season in the Northern part of the state. And it actually has what is considered two growing seasons, summer and winter in the central part of the state.
A wide variety of vegetables can be grown in this state including the following.
Related Articles:
8 Best Vegetables to Grow in Florida
#1. Green Beans
Green beans are a form of snap bean and a popular vegetable on most dinner tables. They can be eaten raw in salads, in soups, casseroles, as a side dish and more. These beans can be eaten fresh, canned or frozen.
Growing green beans in your garden actually replenishes nitrogen to your garden's soil and they are quick to mature often allowing you to get multiple harvests off each plant.
Green bean plants grow best and produce the best yield when planted between February and May and/or March and December. This vegetable takes 45 to 70 days to mature and be ready to harvest. (Depending on where in Florida you live.)
You may want to plant your green beans in succession at intervals of a week or two so that all of your beans don't mature at once.
#2. Shell Beans
Shell beans include varieties such as Lima, Pinto and kidney beans as well as black-eyed peas. These types of beans can be eaten fresh or can be dried to use all year round.
Shell beans can be enjoyed in a variety of ways and are often used to make dishes such as chili, and hearty soups.
The best time to plant shell beans in Northern Florida is March through November while in central Florida you can plant shell beans in February or August.
If you are planning on drying your shell beans you can begin the drying process right on the bush as long as you can protect your plant from the almost daily rain seen in Florida.
#3. Broccoli
Broccoli is a tasty vegetable that is actually quite easy to grow in Florida with Waltham 29 being the best variety for Florida's climate. Broccoli is a versatile vegetable often used in salads, soups, stews, and casseroles or as a side dish.
Broccoli hates warm weather so it is best to plant this vegetable in August or September as it takes between 75 to 90 days to mature so it will do the majority of it's growing during the cooler months, which is ideal for this vegetable.
#4. Cabbage
Cabbage is another cool weather vegetable related to broccoli. This vegetable is extremely versatile and is often used fried as a side dish, raw in coleslaw, cooked in cabbage soup and even served as an entree in dishes such as stuffed cabbage.
Since cabbage doesn't grow well in hot weather this plant should be planted around September since it takes 85 to 100 days to mature. Some of the best varieties of cabbage to grow in December includes; Red Acre, Flat Dutch or Savoy.
#5. Eggplant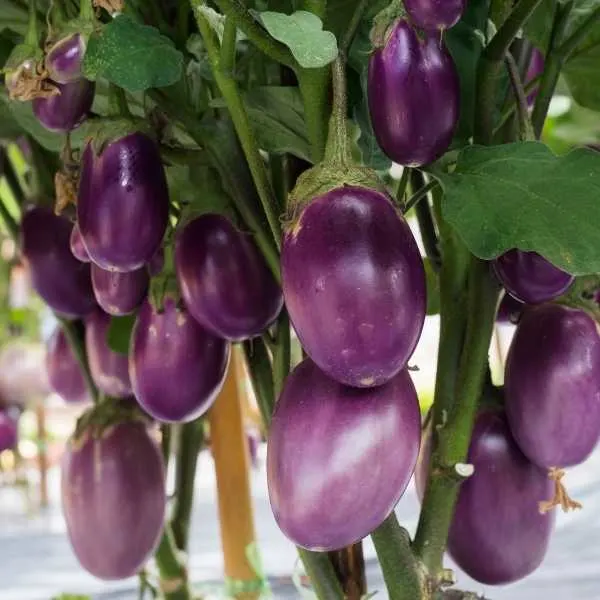 While it may surprise some gardeners, eggplants are actually fruits not vegetables. However, since this plant is treated as a vegetable we have included it as one of the best growing vegetables in Florida.
However, where in Florida you live will determine the best time to plant.
In northern Florida it is suggested you plant during the fall and winter season. January to February or August to September is the recommended planting times for planting eggplant in central Florida, whereas August to February is suggested planting time for those in South Florida.
It is also suggested that you plant from seedlings rather than seeds. Best of all you can grow various types of eggplants in purple, white and even tiger striped.
#6. Radishes
Radishes are not only an easy plant to grow in Florida, but a fun vegetable for children to grow and harvest since these are fast growing vegetables that can be harvested just by pulling them out of the ground.
In addition, radishes make great additions to salads and a number of other dishes. Radishes are best planted from August through September and March through May and can be ready for harvest within 20 to 30 days.
Cherry Belle and Sparkler are wonderful types of radishes to grow in this warm climate.
#7. Sweet Potatoes
Sweet Potatoes are a sweet vegetable that makes a wonderful alternative to regular potatoes. Sweet potatoes can be used in a number of different ways including baked, mashed, sweet potato fries and even pie. This vegetable is also rich in vitamin A and C offering healthy benefits for your family.
In Florida it is best to plant this vegetable between the middle and end of February so they will be ready to harvest early in the summer before the weather gets to hot.
Beauregard and Hermandez are great varieties of sweet potatoes to grow in Florida, but you do need to remember that this vegetable grows on a vine across the ground.
#8. Tomatoes
With Florida's mild weather you can plant a variety of different tomatoes from dime sized Everglade tomatoes perfect for salads or simply snacking on to large Beefsteak tomatoes that are perfect for sandwiches.
Since many varieties of tomatoes in Florida can grow from seed to ready to harvest in just three months, you can even plant a couple of crops each year.
For example, you can plant in March and harvest in June and then plant again in June and harvest in September. In fact, tomatoes are one of the best veggies to plant in March.
Tomatoes are a favorite vegetable (even though they are actually a fruit.) and are used in salads, soups, casseroles, sauces, sandwiches, and even jelly (green apple jelly) and salsa. Just think of all the money you can save by growing a bumper crop of tomatoes!
Best of all if you have limited space in your garden you can grow these plants vertically to save space.
Final Thoughts on the Best Vegetables to Grow in Florida
Growing your own vegetables in Florida can be rewarding, allow you to enjoy your veggies at their peak of freshness and save you money. The vegetables mentioned in this article are only some of the great vegetables you can grow in the Sunshine State!