How to Grow Tomatoes in Grow Bag – A Detailed Guide!
Growing tomatoes in grow bags is one of your best options if you don't have enough space in your backyard to plant a garden. You can use them to grow your tomatoes indoors, on your balcony or outside.
So, this article discusses how to grow tomatoes in grow bags, including tips on selecting the right bags.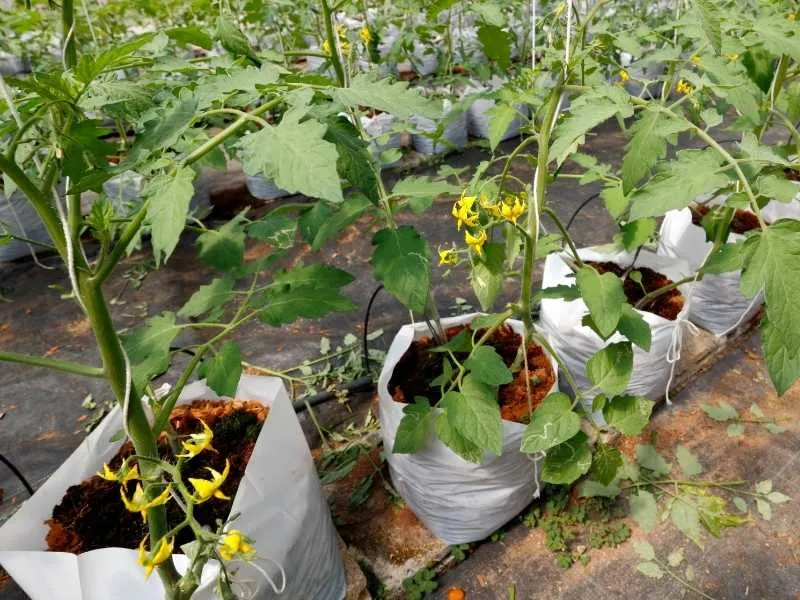 Related:
Why Growing Tomatoes in Grow Bags is a Good Idea
Below are some of the reasons why you should consider growing tomatoes in grow bags.
Portability
Growing tomatoes in a grow bag makes it easier for you to move them to and fro direct sunlight.
You, therefore, do not have to worry that your plants are going to scorch or wilt away under torrid sunlight.
No, you are at liberty to move them to a shade or even inside your house.
Effective Temperature Control
With a grow bag, you can easily control the root temperature of your tomatoes.
When it is too hot, you only need to moisten the soil so that the water's coolness can bring down the temperature of.
When planting in winter, you can use plastic grow bags that retain all the root temperature within the grow bag.
Air Pruning
When you plant your tomatoes in grow bags with windows, the roots are exposed to air. They tend to cut off, and the plant develops new roots. This is called air pruning. If it is not done, the plant roots will continue growing in a constricted pattern.
A constricted or strangled root pattern is not able to take up minerals and water from the soil. The leaves also tend to become yellowish, and the tomato plants will look weak and eventually die.
Factors to Consider When Selecting the Best Grow Bags for Tomatoes
Before going ahead and buying portable grow bags to plant your tomatoes in, you need to consider the following factors:
Material
You can either opt for fabric or plastic grow bags. Both have their pros and cons that you need to weigh before picking your choice.
Fabric grow bags tend to be aesthetically appealing, are durable, have good aeration, and could drain excess water out without the need for you to cut out a hole at the bottom. They are, however, a little bit pricey, and they do not retain much water or heat.
On the other hand, plastic grow bags are relatively cheaper, they retain water and heat nicely but are not very durable.
Size
Tomatoes require 15 to 25 gallon grow bags since they tend to allow deep roots.
Color
You can go for a clear, white, or black grow bag. Black tends to absorb heat while white does the opposite. You may want to go for the black grow bag if you live in a cold region, while people that live in warmer places should go for a color that reflects excess heat away.
Windows
For easy access to the plant, some grow bags come with windows so that you can easily reach the plant.
Handles
If you want to move the tomato plant from one place to another, you will need a grow bag that have handles to easily carry the plants.
Durability
You should choose a tomato grow bag that can last for seasons so that after every season, you only need to clean it up in readiness for yet another season.
What's the Best Size of Grow Bag for Tomatoes?
The best size of grow bag for tomatoes will depend on the tomato variety you are growing. However, it should be at least 15 inches (38cm) in diameter and 12 inches (30 cm) deep. Read this article to get a detailed answer to the question, what size grow bag for tomatoes do you need?
The Best Grow Bags for Tomatoes
Below are some of the most sought-after grow-bags you can get out there.
Vivosun Fabric-Made Grow Bag
Made of felt, the vivosun fabric grow bag is undoubtedly one of the best grow bags that you could purchase for growing your tomatoes. It is durable and can last for years, giving you value for your money.
This grow bag has reinforced handles that you can use to transport it from one place to the other.
It also has excellent drainage, so you don't have to worry that your plant roots will rot due to too much water.
VIVOSUN 5-Pack 5 Gallon Grow Bags Heavy Duty Nonwoven Fabric bags with Handles
Winner Outfitters Grow Bag
Made of BPA-free landscape fabric, this pack of 6 Winner Outfitters grow bags will serve you for a long time.
Ideal for cold places, the black color absorbs heat and maintains excellent aeration. Its water drainage ability is equally great.
Winner Outfitters 6-Pack 3 Gallon Grow Bags /Aeration Fabric Pots with Handles
Hydrocrunch D94002111-100PC 1/2 Gal Grow Bags
The hydrocrunch plastic grow bag comes in two colors. You can go with either black or white depending on how much heat you want on your tomato roots. It retains the maximum amount of water, so there is minimal water wastage.
The only downside is that the soil aeration is not quite good since the plastic material does not allow air in or out.
Hydro Crunch D94002111-100PC 1/2 Gal. B&W PE Grow Bag Set (100-Pack)
Potato Planter Bags – Garden Tub for Vegetable Growing with Flap Access – 2 Pack
Ideal for patios and outdoors, these potato planter bags can also be used to grow your tomatoes. The bags are relatively durable and can be used for several seasons.
At the end of each season, you can clean the bag and store it until the next season.
These bags have handles so that you can easily carry your tomato plants inside when the temperature is too hot outside.
Potato Planter Bags – Garden Tub for Vegetable Growing with Flap Access
How to Grow Tomatoes in Grow Bags.
Step 1: Choose Your Grow Bags
The first thing you will need to do is select your grow bags.
Step 2: Cut Out a Hole at the Bottom of the Grow Bag
Cut a hole at the bottom of the bag to drain out excess water so that your soil is not waterlogged.
Step 3: Fill the Bag with Soil
Fill up the grow bag with the prepared soil and dig suitable holes in the soil to plant your tomato seedlings.
Tomatoes do well in well-drained and aerated soils. They are, however, not that picky on the soil type that you plant them on.
However, I would suggest you use loamy soil since it has good water drainage and aeration properties. The crop roots, therefore, are not going to rot.
You could also place the grow bag on top of a water reservoir so that the soil in the grow bag will be wicking up water to the roots of your tomatoes. This way, you would have created a self-watering pot.
Step 4: Dig Planting Holes in the Soil
You will need to make hole in the soil to plant your seedlings.
Step 5: Plant Your Seedlings
Plant your tomato seedlings in the holes you made.
Step 6: Water Regularly and Deeply
Once you have planted the tomato, you will need to water it regularly. But be careful not to overwater.
Tomatoes also are heavy feeders, so you will also want to spray liquid fertilizers regularly, especially when they start flowering.
Step 7: Support Tomato Plant with Trellis
Tomato stems are weak, so you will need to support them with trellis.
Step 8: 8 hours of Sunshine.
Tomatoes require at least 6 to 8 hours of direct sunlight for photosynthesis. So, you will need to continually move the crop from its shade to a sunny place so that it can get sufficient sunlight.
That being said, note that too much sunlight could destroy the crop. In most cases, it will start by wilting due to too much water loss.
Step 9: Fertilize with Essential Nutrients
Feed your tomato plants with the proper nutrients regularly. You could do this by using liquid fertilizers that you spray on your crops every two weeks.
Tomatoes need nitrogen, phosphorus, and potassium, but the amount needed depends on the nutrients already available in the soil.
Tomatoes also are heavy feeders, so you will also want to spray liquid fertilizers regularly, especially when they start flowering.
It is, therefore, vital that you get a soil test done before planting your tomatoes so that you know what it lacks. Testing also tells you the soil PH and whether it is saline.
Step 10: Control the Root Temperature
If the root temperature gets too high, you could quickly transfer your plant into a fabric grow bag or perforate holes into the plastic grow bag.
Step 11: Pest and Disease Control
You will regularly need to protect your tomato plant from diseases and pests. You can either opt for the chemical or the organic option depending on your preference.
Frequently Asked Questions
Are Grow Bags Good for Growing Tomatoes?
Yes, grow bags are good for growing tomatoes because they make it possible to grow your tomatoes indoors or outdoors. It's also a great option for people who have limited space for gardening.
Is it Better to Grow Tomatoes in Pots or Grow Bags?
It is better to grow tomatoes in pots because pots tend to retain water and nutrients longer than grow bags. Lack of water retention can lead to the compost drying out, which can cause blossom end rot.
In other to solve the problem of water retention, you can use grow rings when planting tomatoes in grow bags.
What are the Best Types of Tomatoes to Grow in Grow Bags?
The best tomato varieties to grow in grow bags include:
Moneymaker
Fandango
Cherry
Beefsteak
Big boy tomatoes
These cultivars are highly resistant to pests and diseases. They are also highly productive, giving you bountiful harvests.
How Many Tomatoes Can You Grow in a Grow Bag?
If you have a big grow bag, you can have as many as three tomato plants in one bag. However, you need to ensure that the plants are at least 3 feet away from each other.
With this spacing, the plants can grow well, widen, and not easily spread diseases to one another.
How Do You Support Tomatoes in Grow Bags?
You can use a cane positioned next to the tomato to support your plants in the grow bag. You can also build or purchase a trellis for your tomatoes.
Final Thoughts on Growing Tomatoes in Grow Bags
You can see that you can always grow your own tomatoes at home. With grow bags, you can grow tomatoes indoors or outdoors. And you don't need a ton of space to do so.